Your browser is unable to display the menu. It has been converted to a table at the bottom of this page.
A session profile holds all information necessary to connect to a Secure Shell server. To create a new session profile, select "New Session Profile" from the "File" menu. The following items are required:

A descriptive name. This name will appear in the remote systems pane on the right.

IP address or DNS name of the remote system

Your login name on the remote system

Your password on the remote system

Click the Advanced... button to access the Advanced Session Properties dialog.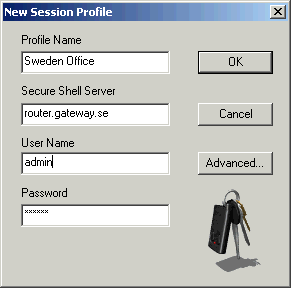 ---