Your browser is unable to display the menu. It has been converted to a table at the bottom of this page.
You just want to connect to Secure Shell server and start transferring files ?

To connect to a Secure Shell server you will need to tell SecEx about the server's IP address or DNS name and provide your login information. This information is called a session profile. You can add a session profile via the wizard or the New Session Profile Dialog from the "File" menu as shown below.





Once you have entered your session profile, SecEx will make a corresponding entry for your SSH server in the remote systems pane. Simply click this entry to connect to the server.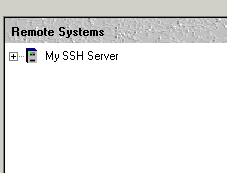 ---