Your browser is unable to display the menu. It has been converted to a table at the bottom of this page.
The default mode of file transfer is binary. Unless otherwise directed, SecEx will transfer all files in binary mode. You can force ASCII transfer of files via the copy buttons on the toolbar marked with an "a" as shown below.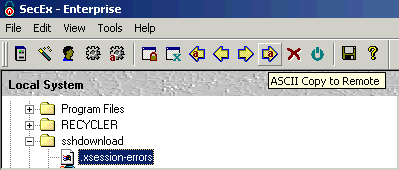 Alternatively, SecEx can automatically transfer files with specific extensions or certain names in ASCII mode. Simply click the "ASCII Settings" button on the toolbar and define extensions and files you wish to transfer in ASCII mode. Extensions are prefixed with "*.". Be sure to enable this feature by selecting "Transfer listed files in ASCII mode".


---