Your browser is unable to display the menu. It has been converted to a table at the bottom of this page.

A typical network time synchronization scenario is depicted in the diagram shown below.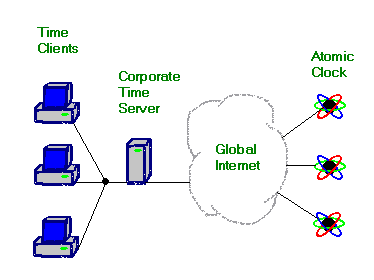 Each workstation synchronizes to a central time server on the corporate LAN. This guarantees a coherent propagation of time to all clients. The corporate time server synchronizes to one or more atomic clocks on the global internet using the Network Time Protocol and offers time services to clients/workstations. Time services may be offered according to one or more of the common time protocols depending on the accuracy desired.

PresenTense98 operates as a background service on Windows 95/98 clients to synchronize their system clocks to a corporate time server.


---