Your browser is unable to display the menu. It has been converted to a table at the bottom of this page.

BFTelnet accepts telnet connections from UNIX clients, Windows NT/2000/XP/2003, Windows 95/98, and others, right out of the box.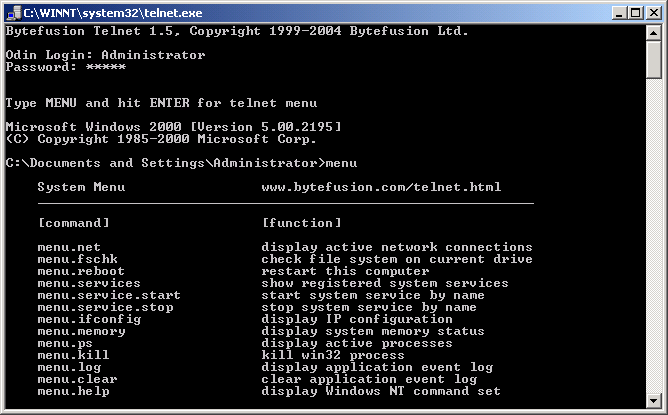 Our licensing policy imposes no connection limits. You can maintain as many client connections to a single server as your hardware will support.


The idle time RAM footprint of BFTelnet is approximately 100 Kilobytes. This makes BFTelnet unobtrusive and versatile. It operates with minimum impact on other applications.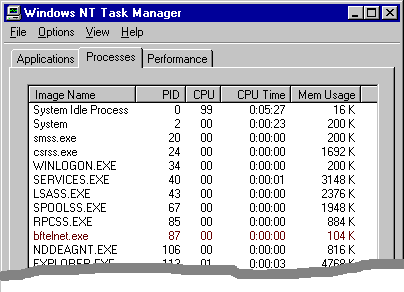 BFTelnet operates as a true NT/2000/XP system service - invisibly in the background. It is started automatically by the operating system at boot time and continues to operate after the user has logged off.



| | |
| --- | --- |
| · | Supports Standard Admin Tasks |

BFTelnet features a system menu that allows administrators to carry out standard maintenance tasks conveniently and easily via a standard telnet session : start and stop system services, display active processes, reboot the system, view the application event log, and more.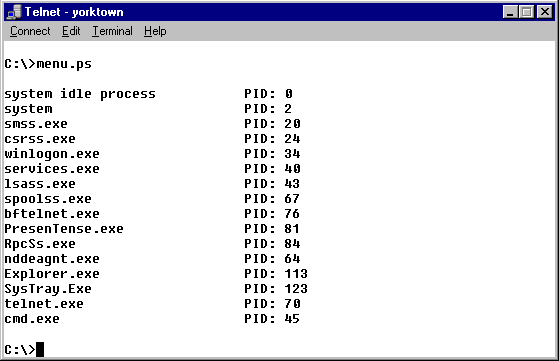 BFTelnet primarily supports batch oriented program output. Full screen, interactive console applications are not supported. This limitation is due to the difference between UNIX and Windows console applications. Under UNIX, the interaction between an application and its terminal models the client/server paradigm where the application sends output as a byte stream to the terminal which in turn displays the output on behalf of the application. Hence, UNIX telnet sessions merely redirect the output to the telnet client. Under Windows, many console applications write directly to screen memory instead of the standard output device. Thus redirecting standard output fails to capture the display. Windows telnet servers that support full screen applications typically do so by continuously scanning screen memory and propagating changes to the telnet session. With this approach, screen updates may be lost if the scanning frequency is too low. However, CPU performance declines seriously with increased scanning frequency. BFTelnet has been designed to operate with a minimum impact on other applications and the operating system and therefore utilizes input / output redirection to support batch oriented program output.





---